Jay's Gates are one of the leading manufacturers of metal handrails in Cornwall. We work closely with our customers to provide you with the correct type of handrail to suit the environment it is being placed in. Our handrails come in a wide range of metals including mild steel, stainless steel, and aluminium. As is often the case with the need for a handrail, there are often various angles and curves to consider, both of which we are able to work with.
Assistance handrails
Each job is different and customers needs vary from site to site and need to be taken into consideration. This is why we like to work closely with each of our clients to find the ideal handrail. When simple assistance handrail is needed, we recommend a traditional metal handrail with either wall fixings or post supports.
When a more ornate handrail is desired, we have many designs from which you can choose. Alernativley we can work together to come up with a design unique for you. For a more contemporary feel we can use stainless steel and glass to give that modern feel to your handrail.
Installation
Installation of your handrail is important, as it is something you will use to assist you whilst on an incline/decline. We can either fix into block or concrete structures using either thunderbolts or our resin fixed setup. If there is currently no structure to fit to we're able to install posts into the ground and concrete in, or we could build you a ramp or steps from steel plate.
Galvanised handrails require very minimal maintenance once installed. For a more desirable finish we can assist you with either powder coating or a painted finish.
If you require a quote or would like to place an order please get in contact with us using the contact page. Alternatively we are open Monday to Friday 9-5 at our workshop to discuss your project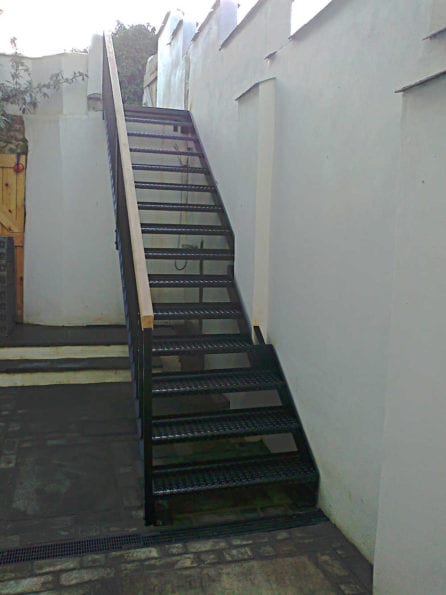 Our latest handrails on Instagram